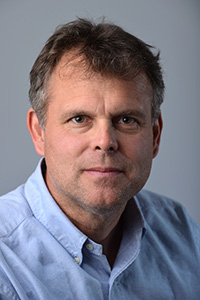 David Bonko
Assistant Professor

Start Year: 1998
Marketing Communications
Office: 301 North Hall
Phone: 715-425-4063
Email: david.bonko@uwrf.edu

Education:
Associate Professor-Marketing Communications Program
MBA, Marketing Concentration-University of St. Thomas, St. Paul, MN
BA-Economics, Business Management, University of St. Thomas, St. Paul, MN
Dave has been at UW-River Falls for 22 years. He has taught a wide array of courses, first in The College of Business and Economics and since 2009, in the Marketing Communications Program. All of his courses feature a significant amount of experiential learning activities; the objective being to provide students with components for their professional portfolio.
In addition as a practitioner within the marketing communications field, Dave works with The Selby Ave JazzFest (an arts-based community development project that traditionally draws 10,000 people and serves St. Paul's Selby Avenue corridor) in the areas of grant writing, branding, social media, public relations and advertising. He also works with Hmong College Prep Academy, a St. Paul-based K-12 charter school, and provides marketing research, public relations and advertising services as well as contributes to the school's grant campaigns.
When he is not teaching, Dave enjoys fishing, Clark Griswold-inspired family road trips and coaching football.