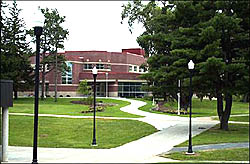 It would be accurate to say of this campus that "a river runs through it." Situated on 226 acres of rolling land, the main campus of the University of Wisconsin-River Falls features 26 major buildings and a spacious interior campus mall. The South Fork of the Kinnickinnic River (a class 1 trout stream) provides a pleasant natural area linking the main campus with the Ramer Athletic Complex. 
The campus has some unique features, such as the largest vertical sundial in North America and a new meditation garden donated by an alumnus.
The adjacent Campus Farm and the Mann Valley Farm, located three miles northwest of campus, complement main campus agriculture science facilities. 
Most buildings were constructed between 1950 and 1980. The two "Old Main" buildings - North Hall (1914) and South Hall (1898) - are on the National Register of Historic Places. 
The campus has been described as the most architecturally consistent campus in the UW System. 
A new Child Care Center opened in July, 2004. Suite style residence halls opened in Fall 2005 and 2012, bringing the number of residence halls to eleven. A new University Center was completed in January, 2007, and is a model of sustainability.
In 2010, UW-River Falls opened the UWRF Hudson Center, an educational center dedicated to meeting the educational needs of adult students seeking undergraduate and graduate degrees and certificates.