Upcoming Events
---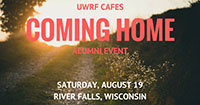 EVENT CANCELLED - Coming Home: A CAFES Alumni Event in River Falls, WI - EVENT CANCELLED
Saturday, August 19, 2017
This day-long event will include a tour of campus, lunch, and stops at several River Falls area farms. Come for all or some of the day. FREE except for a $5 tour fee/person at one of the farms.
World Dairy Expo
October 3-7, 2017
Mark your calendars for World Dairy Expo. We will once again host a gathering for CAFES alumni on Friday, Oct. 6 at 5 p.m.