The Agricultural Business major combines elements of technical agriculture, business, and economics into a powerful and comprehensive course of study. The major is well-suited for students who plan on a career in farming or agribusiness. The USDA estimates that there will be more than 25,000 openings for agribusiness management graduates in the coming years. Check out our careers page to learn more.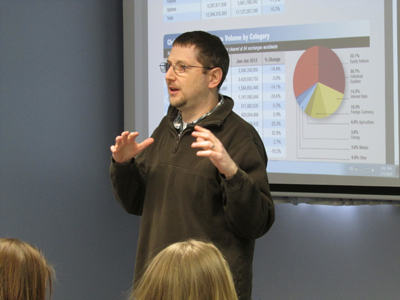 Faculty
The faculty members in the Agricultural Economics department, which houses the agricultural business program, have doctoral degrees from major universities and significant professional experience outside the classroom. UWRF and the Board of Regents have recognized the department for its high quality teaching and academic advising.
Two faculty members were named UWRF Distinguished Teacher of the Year (1989, 2006)
Two were selected as University Adviser of the Year (2002, 2005)
One was named Regents Teaching Professor (2008)
Department was UWRF nominee for the UW-System Regent's Departmental Teaching Award (2009)
Student Involvement
In addition to high quality teaching and great career opportunities, the agricultural business program offers outstanding academic and networking opportunities to our students. We have a strong record of engaging our students in applied research projects, many sponsored by regional agricultural businesses. We also sponsor two student clubs, which offer opportunities to build networks with fellow students and with professionals in the field.