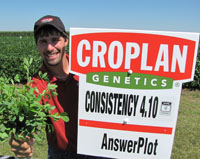 Tryston Beyrer
I am Tryston Beyrer, a Crop and Soil major with minors in Ag Business and Conservation. I grew up on a small dairy farm in Colfax, WI where I acquired my passion for agriculture. I was involved in organizations such as 4-H and F.F.A. in high school, which set a great foundation for opportunities in college. 
UWRF is many students home away from home…a place where you can share your passion with others who have similar interests. Some CAFES students want to fulfill their life aspirations and climb the ladder to the top, while others want to acquire their degree and return to the home farm; either way, CAFES will prepare every student for whichever endeavor they pursue. Faculty members here are passionate about what they teach and go out of their way to ensure every student understands the material. Small class sizes allow for more interaction, too.

Getting involved in student organizations, judging teams, study abroad programs, internships, and research has helped me grow tremendously. I was fortunate to do four internships over the course of my college career, most recently interning in Forage Management for Croplan Genetics (a division of Land O' Lakes). These experiences have allowed me to develop into a confident and well-educated candidate for employers to hire upon graduation from UW-River Falls.  
As a new student, choosing a major can be difficult and overwhelming; my advice is this: You cannot beat going into an agricultural field of study. With the world population increasing and arable land decreasing, consider the fact that we will need to double food production in coming years to meet growing demand. It's an exciting time with many opportunities to do great things in the field.