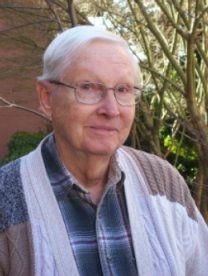 An update from Noble Stockton (Nov. 2014)

I'm C. N. Stockton—friends call me by my middle name, "Noble;" when I was young my uncle called me "Iggy the Ignoble." Between 1966 and 1959 I worked at UW-RF, half-time in History, half-time in Philosophy. Originally a newspaper feature writer, I had studied English at Chicago, philosophy at UCLA, and history at Claremont.
Here are some favorite memories of my time at R.F.
Philosophy of Art
To illustrate the traditional principles of aesthetics, we looked at forms of art that were not already familiar to most of our students.    
For instance, when a kabuki impresario came to Minneapolis, I coaxed his lead actor to visit our class and explain what he did. We read his 18th-century Japanese play,  car-pooled to Minneapolis, saw their show, gorged on pizza afterward. Thank God nobody wrecked their car!    
In some other years, I brought in modern dancers. Is modern dance an abstract art?    
One year, an alternative final exam question was: "How might a very delicious kettle of soup illustrate the principles of aesthetics?" 
History of Wisconsin  

Previously the class had emphasized governors and senators. We emphasized the changing lifestyles of the people of our region—beginning with prehistoric Native American Indians—and made field trips to historic sites in Wisconsin and Minnesota.
Our favorite guest speaker was Frank Zeidler, Socialist Party mayor of Milwaukee 1948-1960, who was eager to explain his socialist ideals to us.
History of Women in U.S.A.
About 1970 a prof in English suggested that R.F. have a women's studies minor. I thought it a good idea but none of the men then teaching history would work up a women's history course. (C. C. Smith did it later). At that moment we had no female history profs, the last one having been sabotaged by our women students who hated her.    
So, despite my lack of qualifications, I offered to teach a freshman-level mini-course myself. The militant feminists at the Amazon Book Store in Minneapolis helped me prepare myself and suggested textbooks. I came to love Elizabeth Cady Stanton and Alice Paul.
Miraculously, in all the 20 years that the course ran, no student ever shook her fist at me and shouted that I was a sexist pig.
Women's philosophy? I still think that there is no such thing because philosophy aspires to a sex-neutral ideal of truth. They do shout at me about that.
Philosophy of History

Some of the students seemed surprised that historians with different viewpoints and assumptions will describe historical phenomena so differently. To illustrate this thesis, we looked at some important historians of the past—Thucydides, Bede, Macaulay, von Rancke, Beard, the Marxist Christopher Hill. Thus the class was also a history of historical writing.
Wisconsin in Scotland
In the 1980s four branches of the U. of Wis. leased—they still lease—Dalkeith House, a palace of some 217 rooms eight miles east of Edinburgh. It's a 1702 enlargement of the medieval castle where James VI of Scotland was hunting when they came and told him Cousin Elizabeth had died and he was now James I of England. To begin the Wisconsin-in-Scotland program, the four universities—R.F., Stout, Eau Claire, LaCrosse—each sent twenty-five students and one prof. I was one of the initial team.
With our new program, naturally, whatever could go wrong did go wrong. Students demanded peanut butter for midnight snacks. But none was available because Brits view peanut butter as an American barbarism. [Finally we found some in tiny jars.] In freshman-level "Intro to Philosophy" I opened the first day by remarking that it's fun that we're meeting in one of the Palace's rooms that are said to be haunted. Oops! That night one of my younger women students found her way out of the Palace gates and into a pub, got howling drunk, ran about screeching that the ghost was after her.
"Archaeology and History" in Scotland was a delight. In a rented bus we went on weekly junkets to visit prehistoric, ancient, and medieval sites from the ruins of St. Andrews to Hadrian's Wall.
My seminar "The Enlightenment" focused on 18th-century Scottish thought and art, was built around a current exhibit in the Scottish National Gallery. We used its catalogue as a textbook.
"So Who Else Discovered America?" a mini-course.  We critiqued:   

Discoveries that are fairly certain—the Bering land bridge theory, the Norse sagas leading to Newfoundland.
Discovery theories that are possible—such as St. Brendan and the medieval Irish, the Chinese account of the land of Fu-San.
Alleged discoveries that are improbable—such as a king of Mali becoming the Mexican Toltecs' god-king who came from the sea, the Kensington MN rune-stone.
The "Free University"
Around 1967 many students were eager to reform the world—beginning with their own schools. At Berkeley they rioted, at Columbia they occupied the administration building, at Madison they blew up the physics building. In R.F., Lutherans provided a funky old house for a "free university" with no grades or requirements. I ran a wildly informal discussion of existentialism until participants lost interest.
Native American Council
About 1985 R.F.'s Director of Native American Affairs, an Oneida, became irretrievably angry at the R.F. administration, told them to go to hell, and quit his job in mid-year. They did not replace him for a year and a half! Our Indian students occupied his spacious office and ran his programs themselves, staging pow-wows and "Native American Awareness Week" with lectures and other activities.
To make their usurpation seem a little more legal, they elected me faculty advisor of their Indian students' organization, the Native American Council.
Since I retired?
Ronnie and I retired to Santa Monica, where the sea breeze blows the smog on Pasadena and buses go everywhere in Los Angeles. But our children insisted that we live near one of them so they can supervise us as we grow old, break our hips and lose our marbles. Since then we've been living near wherever our son Paul N. Stockton is.
In Los Angeles I led walking tours—art deco skyscrapers downtown, Buddhist temples in Little Tokyo—and catalogued old photographs at Los Angeles Central Library. In Monterey, original capital of Spanish California, I catalogued documents in two libraries and helped edit the quarterly of the Monterey History and Art Society. While our son Paul was Senior Scholar at Stanford I gave lectures and classes at a Palo Alto senior center. Then Obama appointed him Assistant Secretary of Defense so we all moved to the D.C. area. Ronnie and I, growing old, live in a high-rise retirement community in Arlington, VA. I sing in a chorus, participate in two writing groups, and attend activities at our church.
A while ago some former students started Facebooking me—I like that—and the History Dept. secretary keeps me posted on all the excitements that Governor Walker and R.F. have to offer. And I welcome e-mails at cnstockton@sbcglobal.net.
---