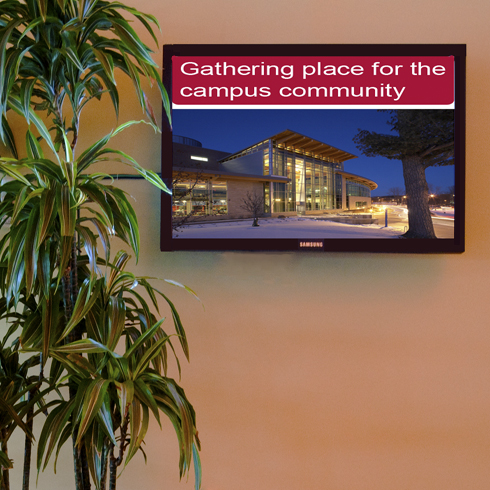 About Digital Signage
Digital signage is the primary way marketing is done in University Center. Digital signage allows users to display unique and stimulating messages using graphics, photos and text. Once submitted and uploaded, your message can be viewed on displays in the University Center.
Getting Started
You must meet the following requirements before content can be uploaded to the digital signage system: 
You must be a member of a recognized student organization or be a recognized campus member. 
You must agree to comply with UWRF campus network usage policies and University Center policies.
Go here to submit the slide.   
Slides must be submitted in a 16:9 aspect ratio.
The recommended resolution for your slide is 1920x1080 or higher.
Email ucdigitalsignage@uwrf.edu if you have any questions
Posting Guidelines  
Slides MUST be for event promotion only. 
Bulletins will only be posted within two weeks of the event.
Slides are to show for ten seconds.
No inappropriate language or topics will be acceptable.
This is NOT ad space or public forum space.
Slides may take up to 3 days before they are visible on the screens - all posts are moderated by UC staff.