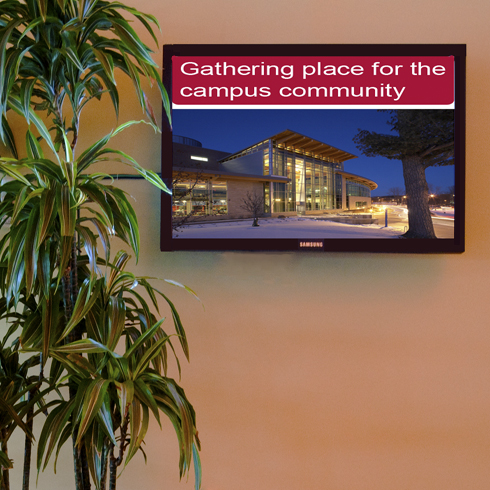 About AxisTV
Digital signage via AxisTV is the primary way marketing is done in University Center and Residence Halls. AxisTV allows users to create unique and stimulating messages using graphics, photos and text. Once created and uploaded, your message can be viewed from many areas in University Center lounge areas and dining venues and also on Channel 118 in the Residence Halls.
Getting Started
You must meet the following requirements before requesting a login account on the system:
You must be a member of a recognized student organization or be a recognized campus member. 
You must agree to comply with UWRF campus network usage policies and Student Affairs AxisTV policies.
Contact digitalsignage@uwrf.edu to request a login username and password. Once you receive your login information, go to http://axistv.uwrf.edu.
Using Internet Explorer w/Silverlight or Firefox, use 'Import' to get a .PNG file into AxisTV.
For more information, see the AxisTV Handbook
Posting Guidelines  
Slides MUST be for event promotion only. 
Bulletins will only be posted within two weeks of the event.
Slides are to show for ten seconds.
No inappropriate language or topics will be acceptable.
This is NOT ad space or public forum space.
See the quick-reference guide for easy-to-follow instructions.
Helpful Tips
You can use any graphics program (Adobe, Powerpoint, Publisher, etc.) to develop your slide.  When completed choose "Save As..." or "Export..." and select file type of ".PNG".

To import a .PNG file created in another graphics program, select "Import" and then "Browse..." to your file.  Choose "Widescreen" for Aspect Ratio.  To upload multiple files at one time, hold CTRL and click your files within the Browse window.

Slides may take up to 3 days before they are visible on the screens - all posts are moderated by our staff.