Survey of Vitamin and Mineral Levels in Pre-Weaned Dairy Calves
Alyssa Gathje and Dr. Sylvia Kehoe
For this project, we were looking to observe the levels of several vitamins and minerals in pre-weaned dairy calves. These calves were being fed pasteurized milk from cows on the farm and one objective of the study was to determine if the cow's milk was providing the calves with sufficient vitamins and minerals.  We began by taking blood samples from approximately 25 heifer calves between three and four weeks old and an additional 25 calves between five and six weeks old. These samples were then sent out for analysis and the results were compared to known values for the vitamins and minerals and were analyzed between the two different age groups.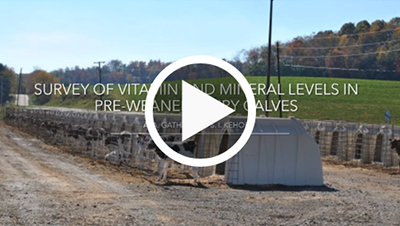 ---
Improving Forage Quality Using Alfalfa-Grass Baleage Inoculants
Barrent Herman, William Lenzen, Derek Lenzen, and Dr. Yoana Newman
Across the road from the Mann Valley Lab Farm in River Falls Wisconsin, a 2 year study was conducted on a 9 acre alfalfa-orchardgrass mixed plot to test the effectiveness of newer baleage inoculants. Because of the advances made in microbiology, companies have been able to come up with new inoculants which are designed to be more efficient in preserving the quality of the bales and mitigate nutrient loss that would normally be seen in other hay making processes. The goal of our study was to analyze the effects of these microbial inoculants on fermentation of alfalfa-orchardgrass baleage in Wisconsin.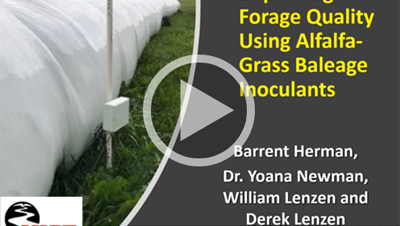 ---
The Effect of Novel Potassium Sources in Yield and Quality of Alfalfa
Barrent Herman, William Lenzen, Derek Lenzen, and Dr. Yoana Newman
Over the last 2 years a study has been conducted on an Alfalfa stand near the Mann Valley Lab Farm in River Falls, Wisconsin to test novel technologies which infused small amounts of boron with granular muriate Potash, a common potassium fertilizer. Aspire is a fertilizer that is designed to give the plants the small amounts of boron and high amounts of potassium that crops like alfalfa, need in the same product. Aspire's muriate granular design allows for more even applications of the boron across the field. This is different from traditional fertilizers where small amounts of boron are mixed with fertilizers like regular Potash which results in an uneven application of boron across the field because of the smaller amounts of boron mixed in the fertilizer spreader. Our goal with this study was to analyze the effect of novel potassium sources and rate on alfalfa yield and nutritive value.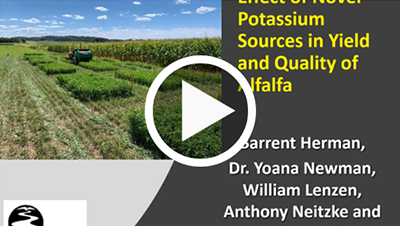 ---
Do Commodity Prices Affect Agricultural Land Values? If So, How Much?
Angela Jungbluth and Dr. Albert Boaitey
A study of agricultural land value in Wisconsin and how commodity prices among other factors affect these values.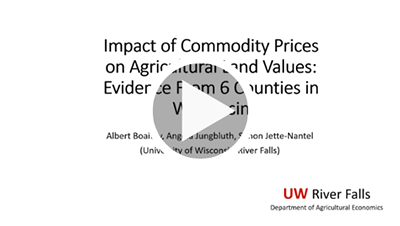 ---
Nutritive Value of Cool-Season Forages for Grazing
Carl Snyder and Dr. Yoana Newman
To evaluate seasonal change in nutritive value of cool-season forage species used in dairy heifer rotation. Determine the botanical composition of grass and legumes, and establish a baseline for improved management decisions and increase the utilization of old stands.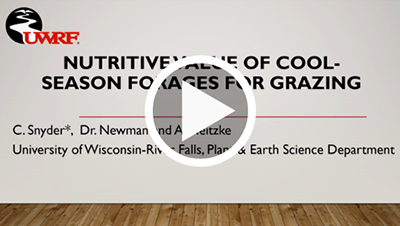 ---
A Comparison of Public Engagement in Community Planning Activities Between Residents of the United States and the Netherlands
Katherine Wendorf, Lorrie McKee, and Dr. Christopher Holtkamp
The study was designed to understand how community members engage in community development and planning activities. We utilized a combination of an on-line survey and in person interviews to conduct this research. A survey of US residents was developed and a first round of responses captured in Spring, 2019. We then sent out the survey to respondents in the Netherlands. We wanted to compare the results between the two countries to see if there was a difference in community engagement.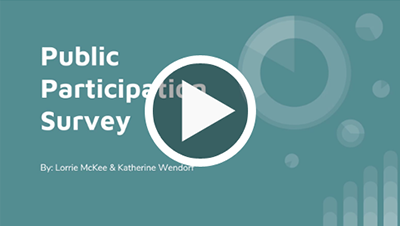 ---
Gibberellin and Vernalization Treatments on Candytuft (Iberis sempervirens)
Jordan Gretzlock and Dr. Sonja Maki
Candytufut, (Iberis sempervirens) is an ornamental perennial plant which requires a vernalization period during production to induce flowering. In this study, the effect of gibberellin treatments prior to 2, 4, and 6 weeks of vernalization was investigated on the cultivar 'Whiteout.'  Seed was sown in 288 plug trays in mid-December of 2019 and grown to the 7-9 leaf stage. GA4 or exo-Dihydro-GA5 (25 ug) was applied n a 5uL drop of 50% ethanol to seedling plugs prior to placing them in a cooler for the vernalization treatment.  Plants were removed from the cooler at 2, 4, or 6 weeks, transplanted to 1204 packs, and grown in a greenhouse supplemented with LED lighting. Flowering and height was assessed mid-May. Flowering was not observed in the control or gibberellin treated candytuft seedlings, however, GA4 treatments promoted an increase in plant height.