Katie Jackson, Ed.D.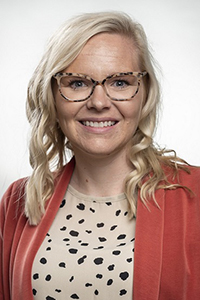 Dear Falcons,
Welcome to the University of Wisconsin – River Falls.  I am so glad you're here. 
I am honored to serve as your Dean of Students.  College is an exciting time of discovery, growth, and challenges. For many college students, it can feel like an exciting and wild ride.  I see myself as your partner in navigating the flows and turns of your college journey. Ultimately, my goal is to support you in maximizing your personal potential while pursuing your overarching goal of a college degree. 
Get Engaged
As with most things in life, college is an experience in which you get out of it what you put into it.  I encourage you to get involved with a student organization, get a campus job, find a way to practice leadership, and enjoy all of the events and services that are so abundant within the Falcon community.
Take Care of Yourself
Many college students experience a newfound sense of freedom in their daily lives.  For some, this can look like operating on four hours of sleep, overreliance on caffeine, no time for exercise, constant emotional stress, and exhaustedly reaching for any food that appeals to them.  These basic habits reduce a person's ability to focus on school and enjoy interactions with friends. It's SO important to keep healthy habits that protect your mental and physical health.  You will feel better and happier each day when you care for your health.
Be an Includer
Many new college students worry about whether they will find friends and fit in.  You can put these tensions at bay by focusing on helping other people feel important, included, and valued.  Get ready to meet new people who are different from anyone you ever encountered in your hometown – there is so much you can learn from these new relationships.  If you experience any hate or bias, stand up for what you believe in and Report It!
Pay it Forward
Every Falcon has something unique to offer our community.  Consider your strengths and talents and spend time sharing them with your fellow Falcons.  You have an opportunity to leave a legacy within the community that will benefit future Falcons!
I am committed to being your partner as you climb this mountain.  The truth is, this will be an amazing experience, but some days will be hard.  On those occasion when you encounter unexpected obstacles, know that you're not alone.  I'm here to support and connect you with expert resources that will stabilize and propel you forward.     
Go Falcons!
Warmest regards,
Dr. Katie Jackson
Dean of Students