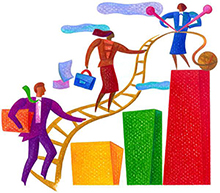 Hard-copy listings are also available for your review in KFA 327 -
Binders of specific internship possibilities—extensive details, contact information, etc.
Have a seat in KFA 327 and take your time paging through!
For more information contact: Dr. Desiree Wiesen-Martin, 715-425-4738.
---

More internship sources
 
MinnesotaNonprofits.org — You can search by organizational activity, job location, job category AND filter by internships only.
Casa de Esperanza, Houston, Texas. Non-profit Casa de Esperanza provides residential care to children birth through six who are in crisis due to abuse, neglect, or the effects of HIV. Care is provided in our neighborhood by our Hands of Hope interns. Our interns, most of whom are recent college graduates, join us for a year of service (a twelve-month full-time post-graduation internship). Applicants wishing to complete shorter internships are considered on a case by case basis. We provide on-site housing (interns live with the children they are caring for) and interns join us from all over the United States to be part of our internship program. (Posted here 4-10-2020)
Details: https://www.casahope.org/hands-of-hope-internship
Application form: https://www.casahope.org/application-part-one
American Public Media, St. Paul, Minnesota — NEW paid Research Internship opportunity! An essential research and communications support position for the fast-paced APM Research Lab. Six month, 24-hour per week, internship at the intersection of research, communications, and public media. (Posted here 10-29-2018)