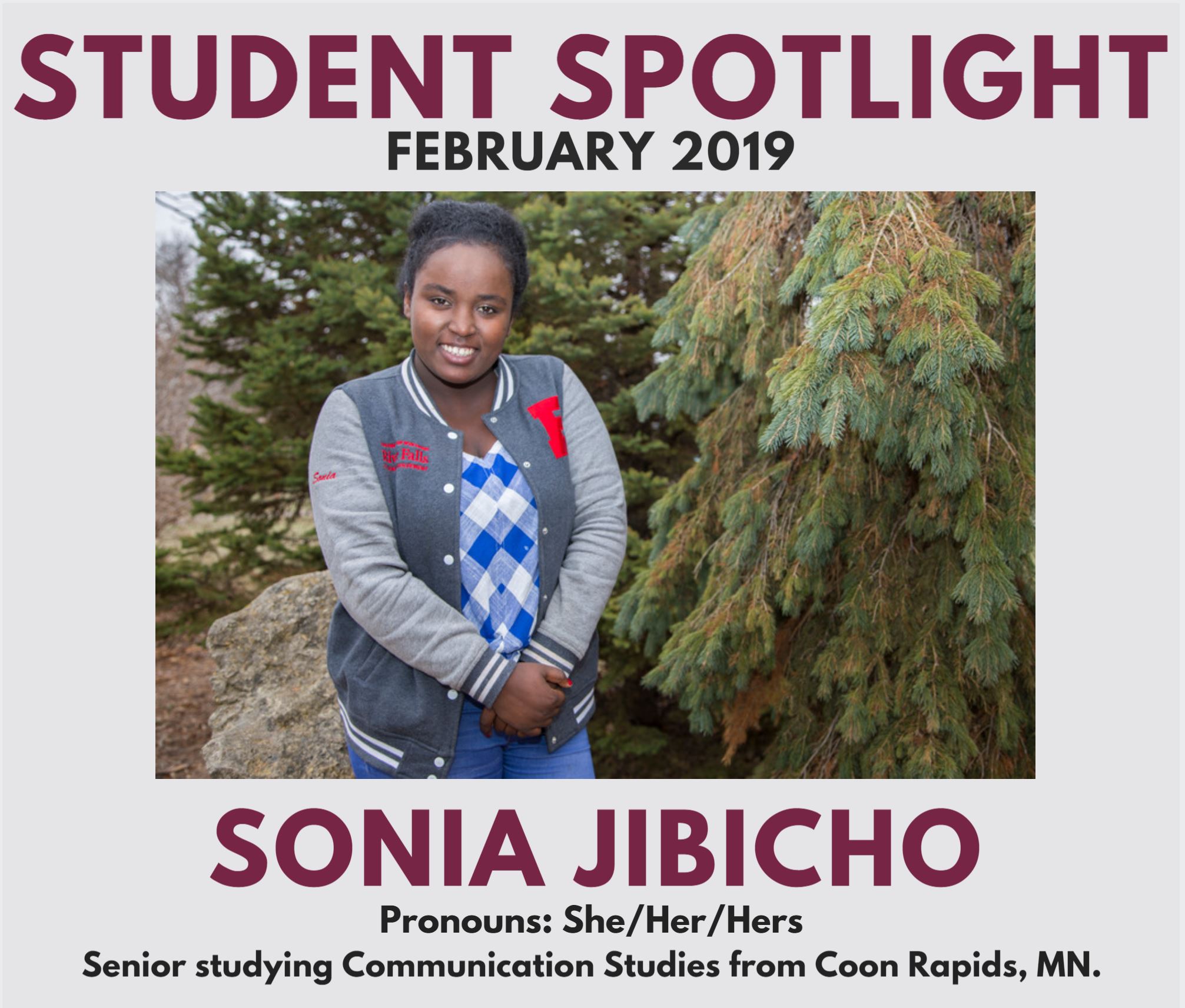 Sonia Jibicho
February Student Spotlight: Sonia Jibicho. Senior studying Communication Studies from Coon Rapids, MN. She/Her/Hers pronouns. 
 
Why did you choose to come to River Falls?
"To be honest, I don't have a legit answer for why I wanted to come to River Falls. When I was looking for school, I picked here because it was a small school and cheap. Also, it was not that far away from home which is good."
What have you been involved with during your time here and why did you choose to get involved?
"When I first got here at UWRF, I was part of Hall Council in my dorm in Grimm. My sophomore year, I was a tour guide in admissions also, I was a resident assistant in Ames Suite. My junior year, I was an Aspire Mentor and still was a tour guide. Now I am a studnet involvement intern for event team."
What do you like most about being a student at UWRF and being a part of CDIB?
"The reason why I like being a student here at UWRF is it's a small school where everyone knows each other by name and also your teacher knows your name and is willing to help you with your assignment. The advantage of going to a small school. What I like about being a part of CDIB is it is a good program."
What are your plans after graduation?
"My plan for after college is hopefully go into teaching for student affair because with the experience I have and what I am doing in college right now is helping me prepare for my future career."
What advice would you give current students?
"My advice to current students is learn how to manage your time wisely because there are things that will distract you. Learn how to separate your school life and social becasue it can help you be successful in the long run."
What advice would you give to future students?
"Future students, college is not like you see it on TV. Trust me when I say it is not the same. It's different. It's okay to struggle. The main thing is reaching out to the right people to help you with your struggle. College is all about going through the obstacle and struggling and coming out of it with a positive thought to be successful in the future. Remeber."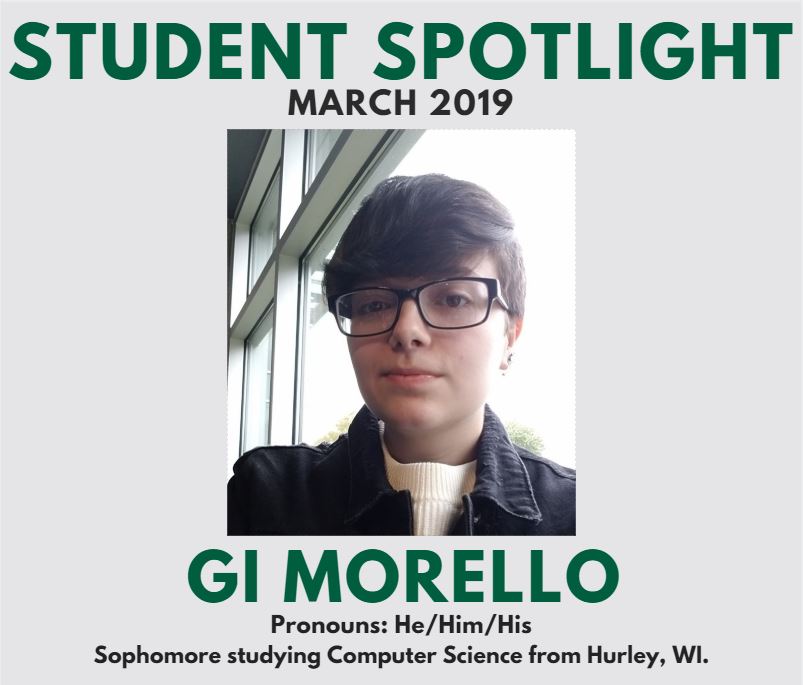 Gi Morello
March Student Spotlight: Gi Morello. Sophomore studying Computer Sceince from Hurley, WI. He/Him/His pronouns. 
 
Why did you choose to come to River Falls?
"I chose to come to River Falls because I had wanted to go to a UW school, and this one is close to the Twin Cities which I love! It's also more affordable for me than other UW schools, and I found I loved the campus and its atmosphere when I toured!"
What have you been involved with during your time here and why did you choose to get involved?
"I've been involved in a number of things, including the Honor's Program, Gender Inclusive Living Learning Community, and the Aspire Program through the Center of Diversity, Inclusion, and Belonging! I decided to get involved with the Honor's Program to meet new friends and to motivate me to keep my grades up. I live in the Gender Inclusive Community in Johnson Hall, and I have been for the past 2 years. It's such an amazing community and a safe space for LGBTQ+ people to live with gender neutral bathrooms, and I've made so many friends while living there. I am also a mentor in the Aspire Program, and I joined because I wanted to help incoming freshman adapt to the campus and college life quickly while also having a friend to talk to if they ever need someone."
What do you like most about being a student at UWRF and being a part of CDIB?
"I like not only feeling productive by being a student on campus, but I like feeling like I'm a part of something greater, a giant community where my efforts are noticed and rewarded. It's the same with CDIB, I love the sense of community and friendship that they offer, and I feel welcome and accepted for who I am at UWRF."
What are your plans after graduation?
"I don't have any specific plans set in stone right now, but I do hope to work in my field of Computer Science through programming, hopefully getting a good job somewhere near the Twin Cities area in Minnesota, as well as maybe working in the field internationally, specifically in Japan."
What advice would you give current students?
"My advice would be to not rush, always take your time and put honest effort into your work and your life. You'll feel better knowing you did your best and worked hard. But, along with that, make sure you balance everything and make time for yourself to learn and grow. Don't overstress or get too overwhelmed - everything will work out in the end! College is all about growing as a person, and having as many experiences as you can while meeting many new people."
What advice would you give to future students?
"For future students, I would like to let you know that college may seem scary and confusing at first, but with the help of others you'll learn quickly and make so many new memories! Don't be afraid to try something new, or to get outside of your comfort zone, this is a safe space for exploring and figuring out your path in life, so go for it!"
Is there anything else you would like to highlight about yourself?
I would like to note how accepting the UWRF campus has been for me, as I am transgender and I was nervous about heading to college - but this campus has welcomed me with open arms, and has given me the courage to continue my transition and focus on my studies. I would also just like to say thank you to the CDIB office and to UWRF! I will continue to strive for the things I want in my life, and I will work hard as well as enjoy my time in college!"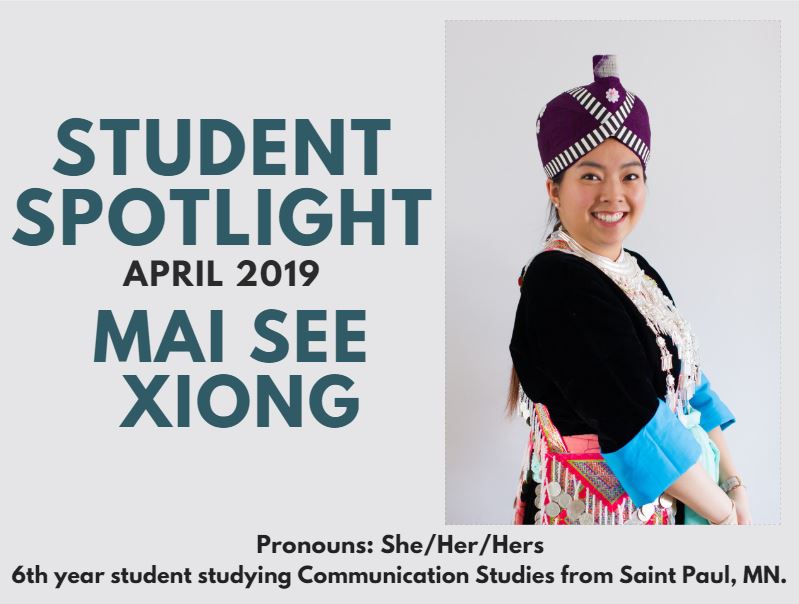 Mai See Xiong
April Student Spotlight: Mai See Xiong (pronounced My See). 6th year studying Communication Studies from Saint Paul, MN. She/Her/Hers pronouns. 
 
Why did you choose to come to River Falls?
"I choose River Falls specifically for the Psychology program actually! I finished my general classes back at Century College and while at Century College, my counselor (advisor) was telling me about how River Falls has a really good psychology program and only 30 minutes away from the Twin Cities. I was completely sold on it. I applied and got in and was super excited to get started on Psychology only to realize that I was terrible at Statistics and that I enjoy talking and engaging with so many people that going through with the Psychology program, I knew I wasn't going to be happy going through it even though I loved learning about it. River Falls was the only school I applied to and I was very optimistic about getting in. I didn't want to go to Metropolitan State University in Saint Paul, Minnesota. I wanted to spread my wings, learn, and grow independently while I was 21 at that time and I am very glad River Falls gave me that choice."
What have you been involved with during your time here and why did you choose to get involved?
"a. My first year here on campus, I didn't get involved with anything just because I didn't know anyone or the campus that well. I also had the mindset of trying to finish my undergrad as fast as I can and leave without making any friendships or connections. (Crazy right?!) I had the mindset of just focusing on classes and be done. While being in college and being away from my family, that wasn't something I would recommend for anyone. I struggled. My first year here on campus, I was miserable actually. I didn't have any friends really until late March of my first Spring Semester here on campus. I remember getting the Resident Assistant position in May Hall 2nd Floor for Mid-Semester and I took the position back in December of 2016 but being new to campus, I felt I wasn't equipped or qualified for the position and with that, the week of finals, I had to give the (Complex Director) Hall Director at that time a call and tell them I wasn't taking the position.
b. That summer after my first rough year here on campus, I took on a job in the New Student Family Program and worked as an OTL (Orientation Transition Leader) during the summer and got to know a lot of people and that was where I made friendships that I will never forget.
c. During my 2nd year here, I became a knowledgeable Resident Assistant in Hathorn Hall where I served with my fellow peers who were so understanding and so amazing. I'd say, we had the best staff that year! I was also a Falcon Tour Guide and I made the most of my time my second year here.
d. This school year, my 3rd year here on campus, I have been involved with the Admissions office working as a student from Recruitment and Enrolling Student Staff, National Residence Hall Honorary, Resident Assistant, and last but not least, working for Center of Diversity, Inclusion as the Social Media Graphic Intern."
What do you like most about being a student at UWRF and being a part of CDIB?
"a. To be completely honest, one thing I like most about being a student here on campus is having so many opportunities here on campus to grow as an individual. I don't think I would've gotten so much experiences in a field such as Student Affairs in Higher Education ever if I was to stay back in the cities or just kept quiet in the Residence Halls. I don't think I would have grown into the person I am today with these opportunities that I have had here on campus. I love how this campus is not so small or big that I can get those opportunities that I know I cannot get anywhere else and I am very thankful for that!
b. As for being part of CDIB, I am forever grateful for the opportunities that I get with CDIB. By being their Social Media, Graphic Design Intern, I have learned a lot, but I have been able to be more authentic than I have ever been in my life and that's always my goal in life (really is) to be real, and staying true to who I am. I love the opportunities I get by being part of CDIB, learning about the many cultures that I do not know of yet, or just understanding the needs that students need here on campus. One thing I love being part of CDIB and their intern, is telling the many prospect students about what we can offer for them such as the Aspire Program, the LGBTQ+ Community -- Gender Inclusivity Floor, what cool events we put on for students to see and many more."
What are your plans after graduation?
"So I was actually going to go to Grad school right this Spring for Student Affairs in Higher Education, but due to the tight finance, I won't be attending grad school for a while. Instead, I'll be interning at my home church, River Valley Church and will be interning during the Summer and Fall until Spring. I am also looking at finding a part time job in AmeriCorps--College Possible is what I am looking at so I hope to get a job there!"
What advice would you give current students?
"There are so many!! Honestly!! For a life advice, always keep it real and be authentic. That's the key to living and being successful. If you can't do that, you're living in lies and won't be able to go far in life.  As for a academic advice, have some fun while you're in college and managing your times to study and do homework. When I say have some fun, I mean get yourself involved here on campus and meet people! I think a lot of times, many people forget how to have fun or meet new people and establish friendships because they think they're too old or they don't have time for it, or they just want to finish up with their undergrad degree and be done and call it good but honestly, you gotta live life a little by having fun while you're in school. Live life a little. Don't be like me who never got involved my first year."
What advice would you give to future students?
"a. Advice for traditional students:
      i. Two advice that I would always give students are 1. manage your time wisely. Once you get to college as a 1st   
          year student fresh out of high school, college is nothing like High school. You get to manage your time, manage 
          your time to study, manage your time to do homework, and basically a lot of things. You're going to realize you   
          have a lot of time to do nothing, study, do homework, work...OR hang out with friends. The semester goes by     
          really fast so if you don't manage your time well that semester, you won't do so well. Make sure to use a             
          planner that will help you keep track of what you need to do.
b. The other advice I would give is for first year students as well. Keep your syllabus and read that syllabus after that first day of class. It is so critical to know what the professors wants you to do for that class by being prepare and knowing that the syllabus will be the class schedule but it is also like a contract between you and your professor. Keep it, read it, don't lose it, and look at it every day if you think you're done with all your homework. There's always something to do for each of your classes!
c. Advice for students who are non-tradition
      i. Get yourself familiar with the campus and talk to students who are traditional students who are in your class. Get
         connected and talk to them and build that friendship or classmate-ship
     ii. Get involved as much as you can. I know this is hard to do, but by extending yourself to surround yourself with
         people who aren't like you isn't too bad. I personally love seeing someone who is a non-traditional student here
         on campus because it shows me that there is someone like me who also took a similar route like me. It shows
         me I am not alone and I'm not the only one!"