Do better, not more!
The Honors Program is a group of academically talented students who also like to have fun with a supportive community. We support your academic as well as your social growth through a program that is customized to your graduation requirements. Please note that the program is not like an AP or Honors program you find in high school where you complete extra work or take several additional classes to graduate with Honors.  At UWRF, we cater your Honors Program to your course requirements so that nearly all of the classes you take to complete the Honors Program count toward graduation.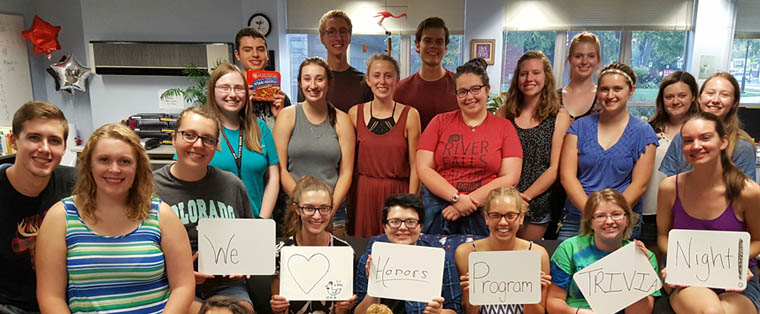 Honors Students enjoy the following benefits:
A customized curriculum
No added time to graduation or extra course work (providing you follow the advising guidelines provided by the Honors Program director that keep you on track)
Priority registration
Honors advising
Use of an Honors interaction space/student lounge
Optional Honors housing available
A notation on your transcript showing completion of the program
And more!
Qualifications*: 
Students coming directly from high school to UWRF must have an ACT of 27+ OR a GPA of a 3.75+ OR be in the top 10% of their graduating class
Transfer students or current UWRF students must have at least a 3.3 GPA and have enough requirements remaining in their degree program to meet all of the Honors requirements.  
[*All Honors students must join the program by their third semester on campus.]
You can apply at this link: Honors Program Application.
If you have any compliments, suggestions, information or concerns about the Honors Program, please let us know using this process.
If you need to report any of the following concerns, visit our Report It! website: sexual assault, violence or discrimination; bias or hate incidents; or general student concerns.