Summer STEM Camp
What's Invention Project® all about?
Students will explore circuitry, energy, robotics, bioengineering and economics as they design high-tech prototypes that solve real-world issues. Once the design is developed, students will create a business model, build their brand, pitch to investors and consider production, profits and loss as they take their invention to market!
Students gain confidence while fostering skills they'll use throughout their lives: creative thinking, teamwork, problem solving, communication and persistence.
Students entering grades 6-9.
In Invention Project®, students participate in a range activities.
You will:
Receive inspiration from NIHF Inductees, such as Post-it® Notes co-inventor Spencer Silver and a transportation device challenge from Steadicam® inventor Garrett Brown.
Become inspired by the work of Nike® co-founder and NIHF Inductee William Bowerman to develop innovative shoes and then enter a mock free-market economy.
Explore circuitry basics as you design and challenge your own motor-powered creatures and meet H.E.R.A.L.D., a search and rescue robot made by collegiate inventors.
Although the business deals are simulated, the skills, friendships and fun are real. It all takes place in an environment that inspires and supports individuality. UW-River Falls Continuing Education is proud to offer this summer program for middle school students who are into STEM subjects.
When Invention Project® comes to an end, innovators won't have a patent, but they'll have the skills and confidence to make anything possible in the future.
The program is offered in partnership with the National Inventors Hall of Fame®
For additional information, send an email to angela.whitaker@uwrf.edu or call 715-425-3261.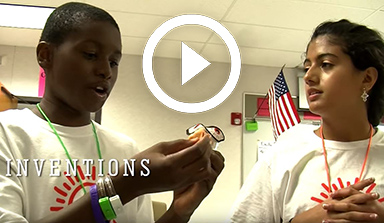 To see Invention Project® in action, check out the video.