---
2010-11 Series

Thursday, Mar. 31, 2011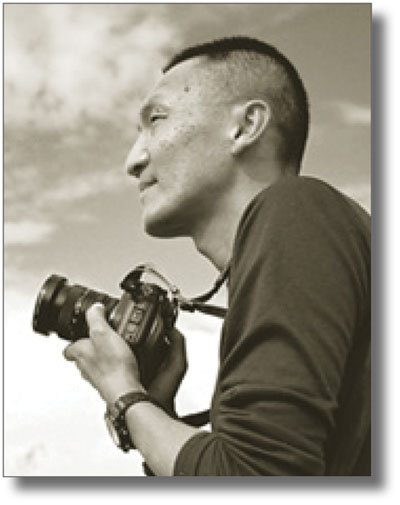 Wing Young Huie
Award-winning cultural photographer
Topic: Identity and the American Landscape
7 p.m. Free & open to all
North Hall Auditorium, Rm. 222
Event photos by Jens Gunelson:
Brief slide show
Complete collection
Wing Young Huie's many photographic projects document the dizzying socioeconomic and cultural realities of American society, much of it centered on the urban cores of his home state of Minnesota.
Whether in epic public installations or international museum exhibitions, he creates up-to-the-minute societal mirrors of who we are, seeking to reveal not only what is hidden, but also what is plainly visible and seldom noticed.
His public installations—FrogtownLake Street USA (2000) and The  University Avenue Project (2010)—transformed major Twin Cities' thoroughfares into epic photo galleries, reflecting the everyday lives of thousands of its citizens in the midst of some of the most diverse concentrations of international immigrants in the country.
The Minneapolis Star Tribune in 2000 named Wing "Artist of the Year" stating, "Lake Street USA is likely to stand as a milestone in the history of photography and public art." In 2008 it hailed the resulting book "one of the 25 most important books ever published about Minnesota."
His five published books are:
More about Wing Young Huie:
---

Thursday, Nov. 18, 2010
Jeff Zeleny,

New York Times

Political Correspondent

Topic: The November Elections
7 p.m. Free & open to all
North Hall Auditorium, Rm. 222


Event photos by Jens Gunelson
Brief slide show
Complete collection
Jeff Zeleny is a national political correspondent for The New York Times. Mr. Zeleny was named to the position in March 2010 after working as a White House correspondent, where he traveled with President Obama across the United States and the world, reporting from Cairo when the president delivered his first major address to the Muslim world and from Oslo as he accepted the Nobel Peace Prize.
He covered the 2008 presidential campaign, following Mr. Obama from the day of his announcement throughout his primary fight with Senator Hillary Rodham Clinton and into the general election with Senator John McCain. Previously, he was a Congressional correspondent for the newspaper.

Mr. Zeleny came to The Times in September 2006 from the Chicago Tribune, where he served as the national political correspondent from 2001 until 2006. He worked in the newspaper's Washington bureau, covering the 2004 presidential race and the first years of the George W. Bush administration. In 2005, he chronicled Senator Barack Obama's first year in Washington, producing the first draft of the senator's rise. He traveled to Russia, Ukraine and Azerbaijan with Mr. Obama in 2005, and followed him to Africa in 2006.

Mr. Zeleny joined the Chicago Tribune in 2000 as a general assignment reporter on the Metropolitan desk in Chicago, where he was a member of the reporting team that won the Pulitzer Prize in explanatory journalism for documenting gridlock in the nation's air traffic system. Before joining the Tribune, Mr. Zeleny was a writer for the Des Moines Register, where he covered the 2000 presidential caucuses, state politics and the criminal justice system.

Mr. Zeleny, a native of Nebraska, was born June 10, 1973. He graduated from the University of Nebraska in 1996, where he studied news-editorial journalism and political science, and completed internships at The Florida Times-Union, the Arkansas Democrat-Gazette, The Wall Street Journal, The Associated Press and the Chicago Tribune.

Mr. Zeleny has traveled to all 50 states and has reported from more than three-dozen countries. He currently lives in Washington, where he regularly appears on a variety of television programs.

More about Jeff Zeleny: