Brett Longdin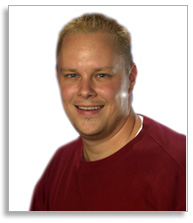 Graduated Dec. 1996
Senior Blog Editor
ESPN.com
Hartford, Wisconsin

Personal News: I joined ESPN.com in June 2008 after working almost 11 1/2 years for the Milwaukee Journal Sentinel's Web site, JSOnline.com. I continue to live in Hartford, Wis., with my wife, Kim, and our three children.
What's your job like? I work with a team of editors and a group of reporters in ESPN.com's football blog network. In a nutshell, I edit copy, come up with story ideas, enhance content with audio, video and photos and work with the editors in Bristol, Conn., on other initiatives.

Reflections: UWRF gave me an opportunity to get hands-on experience during my freshman year. Working in the Sports Information Department, various positions with the Student Voice and WRFW—not to mention internships covering the Kansas City Chiefs—helped prepare me for what I am doing today.