MaryJo (Sylwester) Webster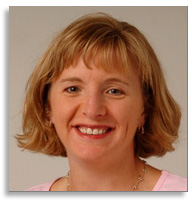 Graduated May 1994
Computer-Assisted Reporting Editor
St. Paul Pioneer Press
St. Paul , Minnesota
What's your job like? I have a unique position that blends a wide variety of skills including reporting, editing, analyzing data, filing public records requests and programming searchable online databases. I spend about half my time working with reporters on enterprise stories that involve some sort of database analysis. The remainder of my time is spent building searchable databases for the paper's website, twincities.com. To do that, I've had to learn (on my own) how to use a variety of programming languages. I'm the newsroom expert in how to analyze data -- whether that's in a spreadsheet, database, statistical software or mapping software -- and I also spend a good deal of time teaching my colleagues some of these skills.
Reflections: When I was at UWRF, I sometimes wondered if I should have gone to a bigger university. But looking back, I see that it was better for me to be a big fish in a little sea, rather than the other way around. The UWRF journalism program provided me a lot of opportunities that I wouldn't have had if I had gone to a large university. I think it taught me to work a bit harder and I wasn't under any illusions that I would immediately get a job at the New York Times upon graduation (which won't happen no matter where you go to school).
Personal news: I've worked a variety of journalism jobs, starting with beat reporting jobs at the New Ulm Journal and the Oshkosh Northwestern. After a stint as an assistant city editor in Oshkosh, I went to graduate school at the University of Missouri-Columbia School of Journalism. While there, I worked at Investigative Reporters and Editors where I learned the tricks of computer-assisted reporting. From there, I spent a year at the Center for Public Integrity (in Washington, D.C.) and then spent more than two years as the sports database editor at USA TODAY. I came to St. Paul in 2005 in order to be closer to my family and live in my favorite state again. My husband, Jamey, and I live in Arden Hills, where we've been remodeling a house that we bought just before we married in 2006. Our big news, though, is that we are expecting a boy and a girl (twins!) in January 2009—our first children.