Matt Kucharski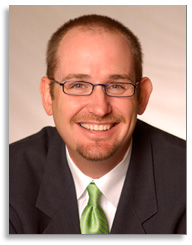 Graduated Mar. 1989
Senior Vice President
Padilla Speer Beardsley Public Relations
Minneapolis, MN
What's your job like? My job is to help clients build and protect their reputations by "doing the right thing" and communicating effectively. I wear a number of hats, including:
—running the firm's technology practice, which represents high-tech companies telling complex stories to customers, investors, employees and other important audiences,
—one of the senior leaders of our business-to-business marketing practice, focusing on B2B companies who need to improve their brands,
—co-lead our crisis and critical issues practice, helping clients when things go "boom" or they get gum on their shoes,
—act as liaison to our Worldwide partner network, helping my colleagues engage with the right overseas partner to help them execute their programs, and

—act as one of the firm's primary media and presentation coaches.
Personal News: I live in Maple Grove, MN —I'm married and have a 15-year-old daughter and a new black lab. —Enjoy the outdoors, movies, reading and "making sawdust" (e.g. home improvement projects) —Sit on a number of boards and advisory groups, including Pheasants Forever, Minnesota High Tech Association and the Fish Lake Residents Association —I teach one class a semester in the J/Mass Comm department at the U of M for "beer money."
Reflections: UWRF was the perfect institution for me. I went up there to be a vet, but quickly switched to journalism and business administration. In hindsight, it was the right thing for me, and I'm still in that career. I had excellent instructors like Jacque Foust, George Crist, Colleen Callahan, Mike Norman, and adjuncts like Neal Gendler, Lorin Robinson and Richard Brynteson really helped me figure out what I wanted to be when I grew up. Writing for the Student Voice was an absolutely critical factor in me getting my first internship in employee communications at Cray Research, which then led to my second internship, and ultimately to the job I'm in today. Because the campus was relatively small and self-contained, I had the opportunity to get involved and feel like I was making an impact. I joined my dorm advisory board, ran for Student Senate (and was president), and helped start a local fraternity chapter (Tau Kappa Epsilon/Sigma Tau Gamma). In all, the campus and the River Falls community were a perfect starting point for my transition from a clueless high-schooler to a (usually) upstanding citizen and (sometimes) business professional.