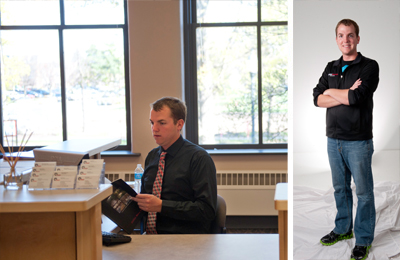 My success is to be an engaged citizen in the business world.
Tyler Brietzke looks at his business administration major with an emphasis in management with optimism for a bright future.
"This major can take you a lot of places and in the directions of many fields, says Brietzke. "With just a bachelor's degree I can work in banking, hotels, or almost any business. I really hope after graduation my career can lead me to travel."
While at UWRF, Tyler already has some traveling under his belt with the study abroad programs to Africa and Costa Rica.
"These experiences really opened my eyes and sparked an interest within me to possibly work abroad. It has been my goal to become a more productive citizen and to learn better ethical values of society," he says. "I know that attending UW-River Falls and living in this community has really shaped me into that person to meet my goals."
"I chose my major because I'm a numbers guy. I chose UW-River Falls because of the MBA accreditation. This is a really prestigious attribute for a university to have, and I knew that if I attended UWRF, I could really reach my highest potential," Brietzke added.
At UWRF Tyler has been involved with numerous activities, one of which was working with the New Students and Family Programming office where he was an orientation and transition leader for new students. He also has been a big part of the Focus Program where he has helped with campus tours, finding ways to interest new students in attending, calling students and families who have questions and even calling for congratulations of acceptance. Brietzke has also coordinated many college visit days and is now a student-intern in the Admissions office.
"I'm the first interaction many families have with campus and I'd say I'm a great people person," Brietzke says. "I know that I have a great personality for working with others and it really helps that I enjoy what I do."   
Brietzke is also known for giving on-the-spot tours. He is always willing to help out and be there when he is needed, on or off of campus, for co-workers or friends. He is very passionate about his job and his academics, but still finds time for a social life and is active in intramurals.
"These are a great way to get out and meet people, outside of the classroom, and they also help me relieve some of my stress," he says.
He credits much of his success to supportive business professors who are always open for questions, especially George Dierberger, director of the MBA at UWRF.
"Helpful professors like him make the college experience much easier because they really push you. I love his personal insights and his life stories drive me. He does so much on campus and in his community," Brietzke says. "He really is an inspiring individual."
"I have always wanted to be successful, and I know that in order to be successful you need to recognize where you come from," says Brietzke. "I want to help my community, both River Falls and Gleason. These places have made me who I am today, and I know that it is important for me to give back to them."