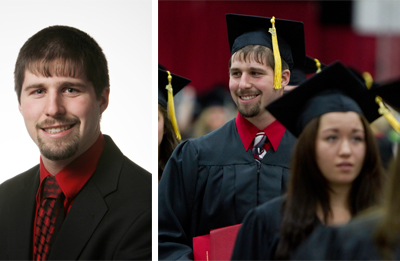 My success is challenging others to exceed their expectations.
Tryston Beyrer is taking his passion for agriculture, soils, and the great outdoors and developing them into a sense of growing life. Being optimistic, positive-minded, and environmentally conscious, Tryston has seized many opportunities that have come his way in the field of agriculture throughout his life.
Growing up on a dairy farm, Tryston was raised with a strong focus in soils, crops, and the general field of agriculture.  Tryston also strives in efficiency and being productive, urging others to utilize their time wisely, as he does.
"At UWRF I have had the opportunity to take so much of what I had learned and actually apply it."
Tryston keeps active on campus in leadership roles within organizations relating to his Crop and Soil Science major and his Agriculture Business and Conservation minors such as being the historian of the Alpha Gamma Rho Fraternity and of the Crops and Soils Club.

While attending UWRF, Tryston chose to participate in the Brazil International Agriculture tour and the India Study Tour to investigate how other countries implement their agricultural practices.

"Studying abroad was a fantastic experience because I was able to relate and take what I had learned in the classroom and actually see it in action. These programs also taught me to be open-minded of the ways other countries approach agriculture."

"This opportunity also helped me connect the thought that different people have good ideas whether they live across the globe or are your next-door neighbor."
Tryston credits much of his success to the professors in the Plant and Earth Sciences Department who have helped him along his way in his educational journey.

"They really take an interest in their students and want them to succeed. These professors always have their doors open and are open for conversation inside and outside of the classroom. They really are the ones I can look back at and appreciate even if I didn't, at the time I was in their classes."

Post graduation, Tryston had planned to go back to farming, but since coming to UWRF, the abundance of opportunities has led him to pursue his masters degree.

"I believe to achieve in any field, you need to set high expectations and be able to meet them. You just need to be productive and proactive."