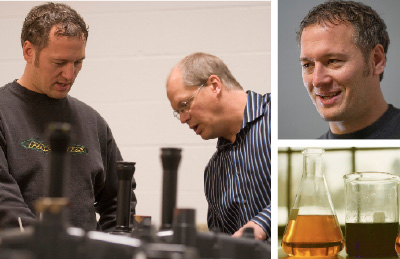 My success is being a good steward of the land.
Sam Vorpahl is looking to science and technology to help him be a good steward of the land and a responsible citizen.
"There is plenty of work to be done in biodiesel research, including the business side of the equation. I am enrolled in the agricultural engineering technology program with a mechanized systems management option," Sam says. "This option gives me business classes that will help me in the field of agriculture. I chose this major because I really enjoy being around the technology that keeps advancing farming."
Sam credits mentors Dr. Kelly Cain, director of the St. Croix Institute for Sustainable Community Development, and Dr. Dean Olson, a professor of agricultural engineering, for encouraging him to explore biodiesel fuels.
"Dr. Cain was one of the first people who got me interested in biodiesel. He led me to the right people and encouraged me to raise interest within our faculty in agricultural engineering," says Sam. "He has also been a good friend to talk with, and we've discussed the continuing direction UW-River Falls is taking to achieve self-sustainable activity by 2012."
Dr. Olson provided the freedom in an open-ended assignment that resulted in Sam working with both classmates and campus entities to pursue the biodiesel project from an engineering perspective.
"Some classmates had written that they wanted to study biodiesel production," Sam says. "I then asked a few teachers what we would have to do to bring this idea into reality, and they pointed me in the right direction. It was just a matter of networking, and I enjoy doing that."
When he graduates, Sam will pursue a career in agriculture and energy. His ultimate goal: "To be a good steward of the land God has given us."