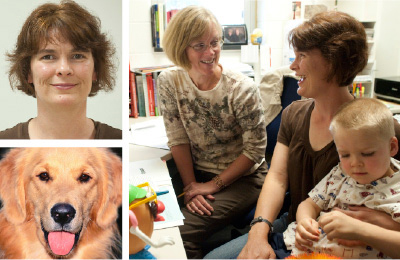 My success is teaching my children to follow their dreams.
When it comes to chasing lifelong aspirations, junior Nikki Quiney knows it's never too late.
She may have taken an unconventional approach to her career. Nikki earned a bachelor's degree in sculpture in 1994, then an associate's degree in nursing in 1999. Now, she's out to find her real passion in life: working to become a veterinarian, while juggling the responsibility of being the mother of three children under 10 years old.
"I was hoping one of them would be a vet. Then I realized I was putting my dreams on the kids, when really, I should just go back and do it myself," explains Nikki.
The Fort Atkinson native currently lives in Hudson and makes the 15-minute commute to UWRF as biology major with an animal science minor.
"I knew I was ready for the next stage. I like a lot of things about nursing, but I've always wanted to take care of the health and welfare of animals," says Nikki. "I finally did something about it."
Full of pride in their mom, Nikki has been able to integrate her kids with her campus life. Nikki also utilizes the convenience of The CHILD Center, UWRF's on-site day care center.
"At first they thought it was a little strange. But now they understand and they think it's fun too. They like taking field trips to campus with me. They love the University Center," says Nikki.
When comparing her experience at previous schools to UWRF, Nikki notes that at UW-River Falls, each of her classes has been taught by a professor or lecturer, never by a teaching assistant. Her advisor, Professor of Biology Kim Mogen, has helped turn Nikki's dreams into reality.
"She helps me get to where I want to go. She helps me find the classes that are important to my career, and has been giving me so much good advice on getting into the pre-vet program," says Nikki.
Nikki's lesson for her children and advice to fellow dream-seekers?
"Just do it. You're going to get old no matter what. You might as well be happy as you get there."