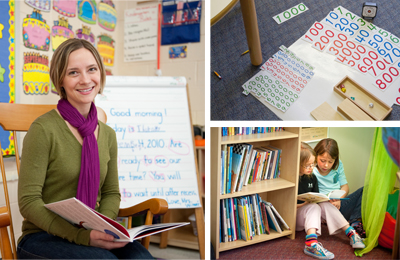 My success is expanding my reach.
A desire to reach more children propelled Heather Wimer from in-home childcare provider to college graduate and teacher. For her and others like her, the University of Wisconsin-River Falls offers a smooth transition from an associate's degree to a bachelor's degree in early childhood education.

In 2010, Wimer was one of the first to complete the Early Childhood Transition to Degree program and is now a kindergarten teacher in Dresser, Wisconsin.  Like many working parents, the prospect of returning to school was daunting for Wimer. After receiving her associate's degree through Wisconsin Indianhead Technical College, she heard about the UW-River Falls program. A transfer agreement between WITC and UWRF further simplified her move into this baccalaureate completion program.

The program is uniquely designed for individuals with an associate degree in early childhood and who are seeking their teaching license and a bachelor's degree. Students take classes either part time or full-time using distance-learning technologies and some Saturday workshops on campus.  

"I had heard about the amazing faculty at UW-River Falls," Wimer said. "But I was surprised and impressed with their dedication to both the students and to the program." The hands-on learning through the practicum brought clear benefits when she worked as a four-year-old kindergarten teachers' aide at a St. Croix Falls elementary school. Teaching early childhood education with a child-centered approach made sense to anyone with a childcare background.

The program was developed partly in response to the need to license childcare providers who become part of a school district's four-year-old kindergarten program. The state was also calling for Head Start employees to have bachelor's degree. Because the courses are offered at times and in ways convenient for working adults, the program responds to UW System's need to grow graduates in Wisconsin. In its third year, the program has 29 students actively enrolled and is showing slow but steady growth each year.