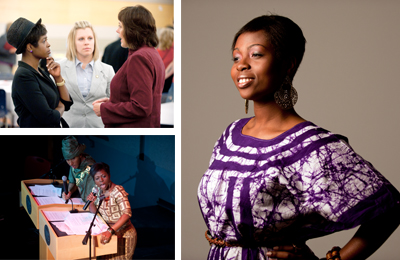 My success is dreaming big.
Grace Adofoli describes herself as an "old soul." As a first generation college student, coming from a family of modest means, Grace's passion for learning and desire for bettering herself has led her to dream big her entire life.
Originating from Ghana, Africa, Grace credits much of her success to her parents. Initially her mother, Celes-Christy, won a lottery system opportunity to come to the United States. Celes-Christy chose this option ultimately in order for her children to receive a better life and access to an education and came to the U.S. eight years prior to Grace and the rest of her family. Grace's mother had been a nurse in Ghana, but her certification wasn't valid in the U.S., so she worked 4-5 jobs to support the family. At one point, the family of six lived in a one-bedroom apartment. 
"My parents served as phenomenal mentors for me. They taught me how to work hard to reach my goals," says Grace.
Adofoli first heard about UW-River Falls from an E.S.L. teacher in high school.
"Until that time I had only considered universities in Minneapolis and St. Paul. I decided to take a chance and visit the campus. Stepping outside my comfort zone was the best thing I could have done," she says. "UW-River Falls opened my eyes to new possibilities and the doors of opportunities seemed limitless and endless."
Upon being admitted to UWRF, Grace had intentions of a pre-med major, a vision she and her family had always had for her:  to be a doctor. It wasn't long before Grace realized this wasn't the direction she wanted to go. She had learned that she was truly devoted to helping people in other ways and was more drawn to psychology. Grace was nervous about telling her parents that she was switching her major, but in the end they laughed and told her, "We kind of saw it coming."
Grace, a psychology major with a biology minor, has an abundance of achievements while studying at UWRF. Her involvements include being former President of the Black Student Union for two years, a member of Intervarsity Christian Fellowship, SURSCA (Society for Undergraduate Research Scholarly and Creative Activity), Psychology Club, and a student representative on the Faculty Senate Diversity and Inclusivity Committee. Grace is also a McNair scholar.
The McNair Scholars Program was designed to change the academic, professional, and personal outcome of first generation, low-income talented college students and further propel them to go on and achieve a master's and Ph.D.
"It transformed me from a student to a scholar and helped me see the world three dimensionally. This program allowed me to pursue my interest in research and to date, I have been able to complete four-research projects with the help and guidance from the unbelievably committed faculty and staff here."
 As one of the core parts of this program, Grace had the challenging, yet rewarding, opportunity to conduct a research project at Cornell University.
"My research project centered on the impact of information communication technology on Ghanaian women in higher education," says Grace.
As part of this research, Grace had the opportunity to study with the world-renowned scholar, Dr. Assie -Lumumba. The continuation of this summer research took her to Accra, Ghana, on the western coast of the continent of Africa, to do preliminary research on Ghanaian students experience with information communication at their universities.
"I know for a fact that being able to travel to Ghana would not have been possible without the help of the Hahn scholarship provided through the Foundation," Grace says.
Adofoli credits her success not only to her family, but to many programs and people on campus including the Academic Success Center, Student Support Services, and faculty members in the biology, psychology, and English departments. Her involvement with Student Life also contributed greatly to her development as a student at UWRF. 
"It has been noted that knowledge is power. I truly believe all UWRF students have the knowledge and the capabilities to persevere beyond our imaginations. The future possibilities for me and many other students currently enrolled and incoming are endless," she says. "In order for these success stories to continue we are going to need to have people who have the heart to support the education of students like myself."
Grace's dream is that every student admitted to this university will have enough support to ease their financial disparities, so they may fully venture into their destiny.
"At UW-River Falls, you truly do have the opportunity to make your own destiny; it is truly where the free spirit prevails. You need to have a vision; if you don't have one, you need to develop one. And always dream big!" she says.