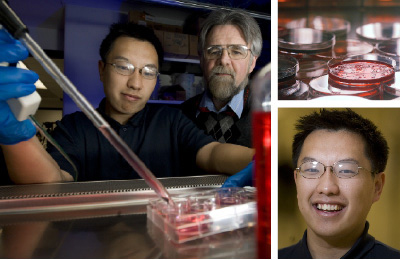 My success is developing artificial tissue.
Biology major Chawntou Yang is a pioneer with a microscope.
"I want to understand the world we live in and explore the unknown," he says.
After becoming interested in biology, genetics and chemistry in high school, Chawntou choose to continue his academic pursuit of biology and biotechnology at UW-River Falls.
"It was not until I had a course at in animal cell culture with Dr. Tim Lyden that I realized that this is the focus of biology that I want to make my career," he says.
As a participant in the McNair Scholars Program, which prepares students to enter graduate school, Chawntou plans to pursue a Ph.D. in biological sciences and credits the support of Lyden and biology Professor Karen Klyczek and chemistry Professor Lisa Kroutil.
"Dr. Lyden is a very intelligent man who knows more than just science—he knows how to teach science," Chawntou says. "What is most remarkable is the attitude that he bring with him to the class, lab and my research. His upbeat approach is illuminating and contagious. He creates a healthy environment that helped me to visualize my future."
Chawntou continues, "Dr. Klyczek is an amazing professor who taught me much about laboratory skills and collaborative teamwork. And Dr. Kroutil taught me, among other things, how to grow and learn from early mistakes, and then plan accordingly to maintain a well-organized research project."
Chawntou has participated in undergraduate research at the UWRF Tissue and Cellular Innovation Center under Lyden's direction. TCIC's partnerships include Phillips Plastics Corp., the Marshfield Clinic, and other clinical and industrial partners.
"The research is structured to show a student how science research is really conducted," says Chawntou. "My research experience has given me the knowledge and skills I need as a scientist."