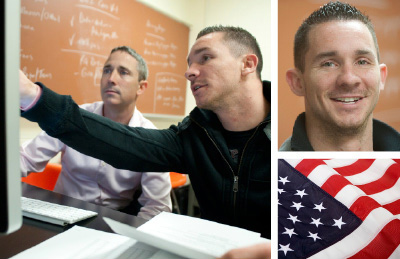 My success is earning my degree as a student veteran.
Veteran and psychology major Bryan Bodrog is using the same drive and determination he used as a Marine to earn his bachelor's degree at UWRF.
"I came to River Falls initially because I wanted to obtain my college degree and help other military veterans," says Bryan. "UWRF is a wonderful place to grow both as an academic scholar and as a citizen. Strive for excellence and this campus will guide you and provide the knowledge you need to obtain it."
In 2003, he enlisted in the Marines and served as an infantry rifle-man.
"I joined the Marine Corps right after I graduated from high school," says Bryan. "I was stationed in Hawaii and then injured in Fallujah, Iraq on November 10, 2004, during the main offensive."
A recipient of the Purple Heart, Bryan says his experiences as an active Marine and as a veteran changed his life forever. UWRF's undergraduate research program and the McNair Scholars program gave him the tools to carefully study veterans and report on his findings.  
"I compared veteran students to nonveteran students with respect to student engagement, satisfaction and performance in the college environment," says Bryan.
The results of Bryan's research have been presented at numerous events, including the Penn State McNair Summer Research Conference and the National Conference for Undergraduate Research.
"We found that veteran students high school GPA's were much lower than the nonveteran's, however, their college GPA's were much higher than that of their nonveteran peers," he explains.
Throughout Bryan's time at UWRF, he says Professor Travis Tubré shaped and guided him.
"Dr. Tubré has turned me into a developing professional in the psychological field," says Bryan. "He has also been a great mentor to me personally. I went through a lot of different life struggles in the past year and he has mentored me through them and pointed me to the light at the end of the tunnel. I do not consider him just a mentor, but a friend."
Bryan plans to attend graduate school to work towards a Ph.D. in counseling psychology, and says he wants to continue working with members of the military and their families.
"I want to work for the VA system at a Veterans Resource Center and help those who have served us all with such great respect," explains Bryan.