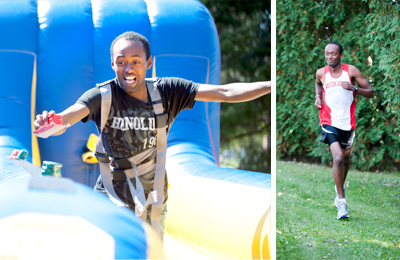 My success is serving the community.
Junior sociology and criminal justice major Anwar Abda has a passion for volunteering.
Born in Ethiopia, with English as his third language, Anwar has been a dedicated student and athlete since moving to the Midwest. Captain of the track and field team and a 300-hour plus volunteer in community service during high school, active in National Honor Society, and a member of STAND (Students Talking About Need For Diversity), a service organization that volunteered for Feed My Starving Children and sent supplies to US Troops, Anwar is a very dedicated individual always looking to serve others.

"I like being involved and getting to know new people. Just like people want to get to know me, I want to get to know them too, and by being involved I can help others and build relationships with new people," says Anwar.

At UWRF, Anwar joined the National AmeriCorps –Falcon Fellows Program, a first-generation, low income college student organization, and committed another 300 hours of community service to local non-profits in a single year.

From working with the River Falls Food Pantry to the St. Croix Valley Habitat for Humanity to Feed My Starving Children, Anwar finds ways to put his talents and abilities to good use."You just have to make time for everything," says Anwar. "When you have a positive mindset, you can help change anyone's life."
Anwar is also part of an organization called Students Today Leaders Forever. This is an optimistic group of students who engage in servant leadership to create positive life experiences. Anwar has served as an inspiration to others by being a role model through this program, a student-run community service group at UWRF.  Through this group, Anwar was a group leader who took middle school and high school students on a community service trip.
Through this organization, Anwar had the opportunity to travel to six different states during his spring break where he worked at food banks, cleaned parks, and renovated an old ice rink alongside other motivated students.
Recently, Student Support Service Scholar Anwar was awarded the 2012 MLK Emerging Legend Award. The Emerging Legend Community Service Award is given to a deserving person age 21 years or younger who resides or goes to school in River Falls and who have demonstrated leadership and active service in the local community.
"Dedicated, collaborative and patient are words to describe Anwar Abda," says Gina Sevick, nominator of this award.
"I believe that one student can make a difference. One person can change the world. You just have to step up and do it," says Anwar.
Anwar is working to start his own lawn care business and plans to attend graduate school after he graduates from UWRF.