All majors/minors are welcome - not limited to History!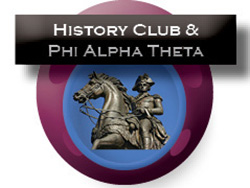 Check us out - attend a meeting, then join if you'd like!

---
These two organizations hold their meetings and events together:

History Club

Open to all students, all majors - no GPA requirement
No membership dues
Organizational meeting with election of officers - coming soon in Feb. 2014.

Like

us on Facebook for meeting notifications!


Phi Alpha Theta - National History Honor Society

All majors are welcome - not limited to History major

Benefits of membership
Academic requirements
completed at least 12 semester credit hours in history (4 courses)

GPA of at least 3.1 in history
overall GPA of at least 3.0
Membership forms available at KFA 307, History & Philosophy Department office (or print this form

).
Due - Friday, Mar. 28, 2014 - Deliver to Sue Voelker (KFA 307) or Dr. Victoria Houseman (KFA 223) with $45 membership fee (check payable to UWRF Phi Alpha Theta). 
Honor cords (additional $15) may be purchased now or later from KFA 307.