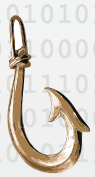 Don't be a phishing scam victim.  Reputable organizations will never ask for your personal data, account numbers, or passwords via e-mail.
The Division of Technology Services (DoTS) will never ask you for your password.  The only information we should ever need from you is your Falcon Account name (e.g. W1234567).
DoTS may send out e-mail with password expiration warnings.  But, you will never be asked to reply to that e-mail with your password.  You will always be directed to the DoTS web site where you will find needed links to change your password.