Career Handouts on a variety of career topics.

Example binders containing sample portfolios, resumes, cover letters, etc...

Career-related publications on resume and cover letter development, job searching, interviewing, graduate school, employer research, federal jobs, etc...

Major-specific publications for careers in the liberal arts, business, education, agriculture, environmental, science, human services, health and communication.

Recent newspapers and periodicals containing college student and regional career news and information.

Directories and lists for conducting employment research.

Receive a free Job Choices magazine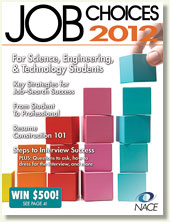 Pick-up in Career Services: Visit Career Services, 211 Hagestad Hall, to receive a free Job Choices magazine, published by the National Association of Colleges and Employers.
Editions: Planning Guide to Job Search, Business & Liberal Arts, Diversity, Science-Engineering & Technology
Job Choices is catered to college students and recent grads, discover where the jobs are by location and occupation, learn more about resumes and interviews, and receive tips on the job search from the experts.