Welcome to the Farm!

The College of Agriculture, Food and Environmental Science has provided training in the agricultural sciences since 1912. It has earned an outstanding reputation for quality education and service to the people of Wisconsin. UW-River Falls operates two laboratory farms which are an integral part of the educational program. Many classes in animal sciences, horticulture, crop and soil science, environmental science, and agricultural engineering technology meet on the farms for the laboratory portions of the course.

In addition to the production of crops, the laboratory farms support horse, beef, and dairy cattle herds, a swine herd, and a sheep flock. Demonstrations and experimental plots are also provided for student use. Cropland and livestock production facilities are used for classroom and hands-on educational purposes. Modern facilities house the animals and are used to demonstrate the relationships between management, nutrition, breeding, and environment.

---
Campus Farm
Located south of River Falls within walking distance of campus, the Campus Farm includes approximately 130 acres primarily devoted to horse operations. The facilities of the farm include outdoor and heated indoor rodeo arenas, barns with classroom space, breeding facilities, and pasture and hay land. The rodeo arena is the site of an intercollegiate, student-run rodeo each September. A mult-purpose arena is utilized for livestock shows and sales, horse science coursework, an indoor riding arena, and colt barn. FFA career development events take place here as well. An additional 32 acres is utilized for horticulture research and extension work, and an 8 acre site on the northwest edge of the farm is devoted to environmental science and forestry projects. These laboratory plots are used by students for research, observation, and practical learning experience.

Mann Valley Farm

Located 2.5 miles northwest of River Falls at County Road MM and South Glover Road, Mann Valley Farm spans approximately 475 acres. The farm houses beef, dairy, sheep, and swine operations. Facilities include beef finishing lots; swine farrowing, hoop, and finishing barns; sheep barn with heated lambing rooms; and the St. Croix Valley Bull Test Station.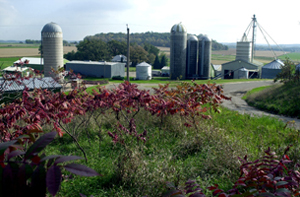 Rations for livestock are formulated and processed at the farm facilities. Feed processing, grain drying, and storage units are located at the Mann Valley Farm. The farm's cropland produces the majority of feed required for livestock production. An interdisciplinary composting research program is housed on-site.
In addition to an indoor classroom, an outdoor pavilion is used for instruction, contests, workshops, and livestock shows and sales. An agreement with Case IH provides the farm with the latest in farming technology and equipment. The Mann Valley Farm is also the site of the new state-of-the-art Dairy Learning Center.