Transferring to River Falls is a great way to get started on finishing your degree.  Each year, over 600 new transfer students find the right fit at River Falls in one of over 40 majors and programs.  
Below, in one of the three categories, you will find information on how we accept credit in transfer from a number of institutions across Wisconsin and Minnesota.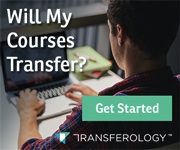 Transferology is designed as a resource for viewing how credits transfer from many of our most popular transfer institutions. Use this tool to load your courses from your current or previous institution(s) to see how they might be accepted at UW-River Falls.

Transfer Information System
The UW Transfer Information System (TIS

) is a computer system designed to provide potential transfer students from other UW Institutions with information on what courses transfer within the UW System. 
River Falls is continuing to build articulation agreements with a variety of institutions and list them in our Transfer Evaluation System.  As we continue to do so please use this page to view a list of all other transfer guides.