General Transfer Credit Policy
Credit is awarded for college-level course work completed at institutions accredited by a regional accrediting organization

recognized by the Council for Higher Education Accreditation (CHEA). (Foreign institutions must be recognized by the Ministry of Education in that country.)
Courses to be transferred to UW-River Falls must be similar in nature, level and content to a course in our undergraduate curriculum and applicable to one of our academic programs. Continuing education courses, graduate-level courses, and courses that are remedial, technical, vocational or doctrinal in nature are not transferable. Courses from non-accredited institutions may be reviewed by the appropriate university departments to determine transferability; contact the Admissions Office

for more information.
Application of Transfer Credit
Transfer credit is applied toward the UWRF degree where the transfer courses match with UWRF General Education or other degree requirements.  Courses which do not match with specific requirements may be accepted as elective credit, but may be allowed to substitute for specific requirements with approval of the appropriate Academic Department Chair and/or Academic Dean.  Faculty Advisors, Department Chairs and Academic Deans work with transfer students to help them best apply their credits toward the UWRF degree. 
For information about how credits transfer from specific colleges and universities to River Falls.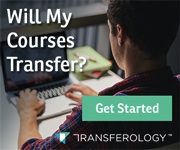 Credit From Community Colleges and Two-Year UW Campuses
The maximum number of transferable credits from a two-year college is 72. Usually General Education requirements will be satisfied by students who have completed associate degrees from two-year institutions, community colleges or junior colleges. Students accepted under the transfer policy are still required to meet all other core, diversity, major, and minor requirements. River Falls also reserves the right to review the student's associate degree and require additional General Education courses.
Credit by Exam
River Falls grants credit based on a variety of exams, including Advanced Placement, International Baccalaureate, and the College-Level Examination Program (CLEP). UWRF does not award credit for these exams that have been recorded on a previous institution's transcript. The student should have the scores sent directly from the testing agency to River Falls. 
Credit for Military Experience
River Falls will evaluate Military Transcripts for transfer credit. Generally, Military Credit is accepted for General Education requirements and other baccalaureate courses. Also, credit awarded for vocational/technical training or in a Military Occupational Specialty will not be accepted. In order to award credit we must have an official transcript sent.
To order your transcripts please follow the links below.
Additional Information
For additional information on transferability of coursework to River Falls or for any other questions regarding transfer please contact the Admissions Office or visit our catalog.